<<< back to films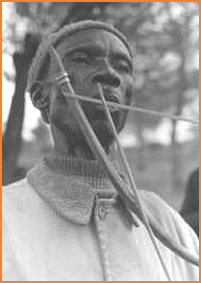 West African musician Diro Dah
16mm. Color. 11 minutes.
Available in DVD, VHS video or 16mm film.
Director-Cameraman-Editor: Taale Laafi Rosellini
Sound: Kathleen Ann Johnson
Co-editor: Linda Moss
Narrated by Richard Lawson
A portrait of West African musician Diro Dah, who gathers materials from nature to construct, tune and play a new kankarama musical bow. Using music to imitate the rising and falling tones of Lor, the language of the Lobi people, in a hide-and-seek game, Diro delightfully engages village children as he directs them to a hidden object with his talking musical bow.
Awards and Premieres

Red Ribbon Award, American Film Festival
CINE Golden Eagle Award [Cinematography]
Best of Festival, Big Muddy Film Festival
World Premiere, Third World Film Festival
African Premiere, FESPACO (Festival Panafricain du Cinéma de Ouagadougou)—the biggest Black film festival on the planet

Reviews

"Excellent photography. Increases intercultural awareness. Idea and content are superior. Technical quality very good. For programs and classes on music in other cultures. Subject areas: African/Black Studies, Anthropology, Language Studies and Linguistics, Music & Musicians, Social Studies."
—Educational Film Library Association.

---

Purchase Now!

For Personal Viewing (Does not include performance rights):
$19

For Public Libraries (Does not include performance rights):
$59

For Educational Institutions (Includes performance rights for class or group screenings):
$149

Written permission from producer required for all broadcast screenings.