African Family Film Foundation, a nonprofit educational organization, created the African Family Children's Fund to assist children at risk, and their families, in West Africa. Through the African Family Children's Fund, we actively support:
1) Emergency drought, flood, famine and tropical disease relief. Currently we are appealing for contributions to purchase locally made cotton blankets and non-toxic mosquito nets, thereby helping African children and families prevent vector-borne tropical diseases: Malaria, Elephantiasis, Dengue Fever, Sleeping Sickness and River Blindness.
2) Grass-roots projects and schools in Africa that teach children ecologically sound skills: reforestation, sustainable organic farming, and solar energy production.
LEARNING RE-FORESTATION
SUSTAINABLE ORGANIC FARMING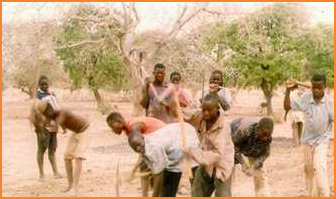 During the dry season, youth of Malgsomde village, Oubritenga region dig holes in the millet fields, filling them with organic material (grasses, animal dung and decayed millet stalks).
Burkinabe youth are learning this technique called zai. It provides the soil with nutrients, retains humidity, resists drought, allows seeds to grow more easily and helps produce a better crop, year after year.
LEARNING SOLAR ENERGY PRODUCTION…
Students point to a drawing of the sun the primary source of all energy on Earth, and a drawing of a solar panel
REDISTRIBUTION OF WEALTH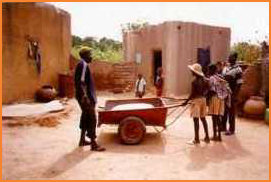 Young volunteers distribute 100 kg sacks of African grown corn to families, Kuritenga region.
African Family provides nutrition (millet, sorghum or corn organically grown in Africa) and cotton blankets (hand-woven by African artisans) to children and their families. We engage in the redistribution of wealth while encouraging local organic farming and the ancient art of weaving cloth.
---
Please help us help African children and their families.
Your contribution can make a difference. Act now